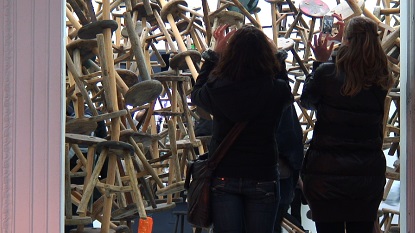 Francia 2013
Video, 112 minutes
HDV, 16:9, colour, stereo
FRANCIA 2013 is an essay film in two movements about the swap of the French and the German Pavilions at the 55th International Art Exhibition – La Biennale di Venezia in 2013.
It was filmed by two visitors – the Author (Aija Laura Zivitere) and the Artist-Filmmaker (Michael Pilz), during the last week of the Biennale.
The first movement (Germania and/as/in/is Francia, 90 min) consists of three parts: MORNING (Girls and Pigeons, Lunch, – Ai Weiwei!); AFTERNOON (The First Raindrops, Boots and Umbrellas, The Wind, Untitled I, On the Threshold, Untitled II); EVENING.
The second movement (Closing the Doors, 25 min) consists of two parts: November 23, 2013; and November 24, 2013.
Aija Laura Zivitere
Original title Francia 2013
Concept Aija Laura Zivitere
Produced by Aija Laura Zivitere/ALZ Pavilion Films
Coproduced by Michael Pilz
Shooting time 19–27 November, 2013
Shooting locations Giardini della Biennale di Venezia
Completion final version July, 2014
Cinematography by Michael Pilz
Original Sound by Michael Pilz
Edited by Aija Laura Zivitere & Michael Pilz
Sound Design by Aija Laura Zivitere & Michael Pilz
Latvia/Austria 2014
Copyright by ALZ Pavilion Films
Contact Michael Pilz Film
A-1180 Vienna/Austria
Teschnergasse 37
Phone +43.699.11336581