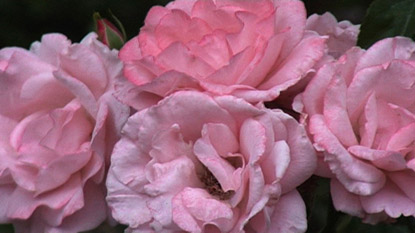 Rose And Jasmine
Video, 106 minutes
digiBeta, 16:9, colour, stereo
In ancient China before an artist began to paint anything – a tree, for instance – he would sit down in front of it for days, months, years, it didn't matter how long, until he was the tree. He did not identify himself with the tree but he was the tree. This means that there was no space between him and the tree, no space between the observer and the observed, no experiencer experiencing the beauty, the movement, the shadow, the depth of a leaf, the quality of colour. He was totally the tree, and in that state only could he paint.
Michael Pilz, Vienna, April, 2010
Meditation is to be aware of every thought and of every feeling, never to say it is right or wrong but just to watch it and move with it. In that watching you begin to understand the whole movement of thought and feeling. And out of this awareness comes silence. Silence put together by thought is stagnation, is dead, but the silence that comes when thought has understood its own beginning, the nature of itself, understood how all thought is never free but always old – this silence is meditation in which the meditator is entirely absent, for the mind has emptied itself of the past.
Jiddu Krishnamurti, Freedom from the Known
A cinematic poem based on the director's journeys in Iran from 2006-2007. By patiently and gently observing both people and place, Michael Pilz collects images and sounds of ravishing beauty. A meditative experience.
40th International Film Festival Rotterdam, January/February, 2011
Original title Rose And Jasmine
Produced by Michael Pilz
Shooting time May, 2006 and October, 2007
Shooting locations Tehran, Kerman, Yazd, Persepolis, Shiraz, Esfahan, a.o.
Date of completion April 12, 2010
Cinematography by Michael Pilz
Original Sound by Michael Pilz
Edited by Michael Pilz
Music by Morton Feldman (For Bunita Marcus, 1985) – With kind permission from Studienzentrum für Neue Musik, Maria and Gerhard Crepaz, Hall/Austria
Piano John Tilbury, October 15, 1990
Special thanks to Mr. Behrang and his setar, Chehel-Sotun Palace, Esfahan, May 18, 2006
Sound mix by Michael Pilz
No dialogues, no subtitles
Thanks to Ursel Schröder, Ulrike Küppers-Dost, Dr. Hans-Bodo Thieme, Doris Thieme, Anneli Neumann, Barbara Progscha-Weiner, Karin Dehnbostel, Dr. Helga Bremer, Heike von Wedel, Trude Adler, Christa Bausch, Abdi Mansoubi, Khosrow Sinai, Gizella Varga Sinai, Farah Ossouli, Zawen Ghookasian, Gabriele Hochleitner, Peter Schreiner, Matthias Goldmann, Listo Video Vienna and the people in Kerman, Mahan/Bagh-e Shahzade, Persepolis, Shiraz/Hafezieh, Esfahan and Teheran
Austria 2010
Financial support

First public screening 40th International Film Festival Rotterdam, January/February, 2011
Festivals, specials Rotterdam (NL), Graz (AT)
Distribution by Michael Pilz Film
A-1180 Vienna/Austria
Teschnergasse 37
Phone +43.699.11336581