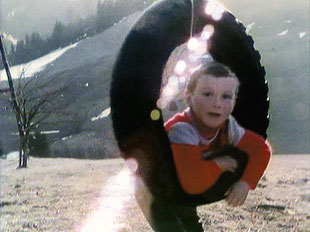 Heaven And Earth
Himmel und Erde
297 minutes, 35mm, colour, 1:1,33
Take what is before you as it is and do not wish it to be different, simply exist.
Lao-tzu
He who is afraid of tiring when walking should place one foot in front of danger.
Dschuang-Tzu
Heaven and Earth is the fascinating portrait of a mountain village fighting to survive against the powers of nature as well as against economic pressures from outside. A profound reflection on the meaning of life and work, the necessity for relationships and the definite character of our world. Slow and lengthy, this film stands out for its beauty and poetry.
Prix du Jury Oecumenique,
14e Festival International de Cinéma,
Nyon, Switzerland
October 1982
»
Additional articles, reviews & photo galleries (pdf, 1,6Mb)

»
Zusätzliche Artikel, Reviews & Fotogalerien (pdf, 1,6Mb)

Original title Himmel und Erde
English title Heaven And Earth
Film in two parts
Part one: The Order of Things
Part two: The Course of Things
Produced by Michael Pilz Film
Concept and realization by Michael Pilz
Cinematography by Michael Pilz (Helmut Pirnat)
Original sound by Georg Buigner (Othmar Eichinger, Herbert Baumgartner)
Edited by Michael Pilz
Cast Inhabitants of the Austrian mountain village Sankt Anna, Obdach/Styria
Austria 1979/82
Original dialogues German
English subtitles
Austria 1982
Language of dialogues German, original styrian dialect
Subtitles (english version) English (Cinetyp, Luzern, Switzerland)
First public screening 23 September, 1982, 6th Austrian Filmdays, Kapfenberg/Austria
Festivals Kapfenberg (AT), Nyon (FR), Aurillac (FR), Vienna (AT), Rotterdam (NL), Berlin (DE), Figueira da Foz (PT), Montréal (CA), Paris (FR), Edinburgh (GB), Triest (IT), Graz (AT), San Jose (US), Riga (LV), 35th Summer Film School Uherské Hradiště (CZ), a.o.
Copyright by Michael Pilz Film
A-1180 Vienna/Austria
Teschnergasse 37
Phone +43.699.11336581